THE DEPARTMENT OF FASHION

Please join me and all within the Alpha Colony Department of Fashion as we announce the acceptance of outside designs. As we evolve fashion in Alpha, it is our hope to produce the styles you want to see and wear. You will have a voice in everything, and we will take all of your ideas into consideration. However, please be advised that not all suggestions will be approved. To submit your ideas, please leave a reply below my posting or deliver the design to me via digital paper. I will not be accepting any ideas through email.

Underneath, I will leave an elaborate example of how one might submit a design to the DOF. If after reading you are still incapable of comprehending how to submit your design, fret naught. All current standing members will be available to assist you as best as possible.
We are thrilled to assist, and you merely need to ask when we are present to do so.
OOC: Some ideas if approved, will need to be adjusted before they can be included. Currently only one staff member is available to update clothing so not everything will be added quicker. Finally, all designs must be in a futuristic theme like all other things in this game. After Josiline goes through the designs, I will still require a second approval from staff, so even if I approve staff may not. With that being said, I hope you all participate if you encounter something you desire to see in the game.
---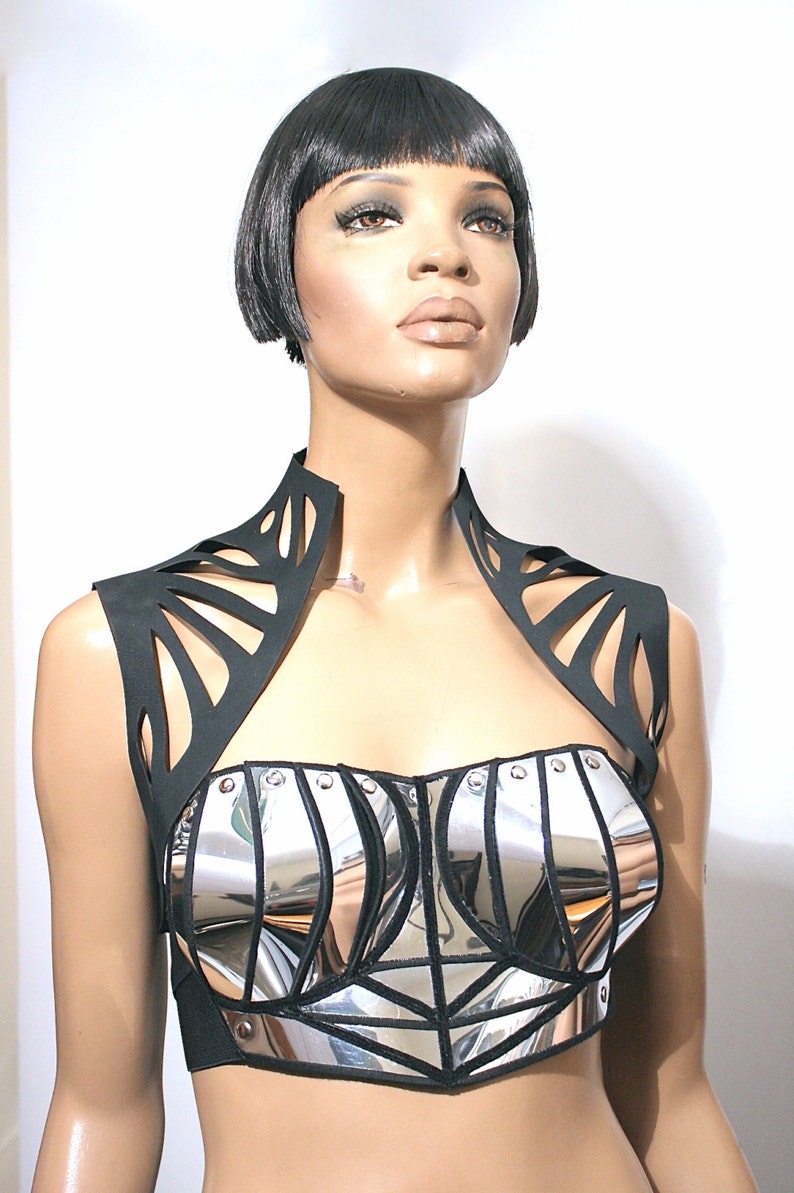 In Game:
I thought of doing an armored corset because not only is chrome plating fabulous to look at, it also comes in handy to protect the chest.
Out Of Game:
BRIEF: black and silver chrome corseted-vest

LOOK: This corseted top has been crafted from sheets of metallic chrome and elastic black fabric. It is akin to armor by design with the corset cupping the breasts in metal chrome and layering over the stomach and around the back, in-between the chrome plating is elastic black fabric with four adjustable bands to cinch the corset snugly into place. The garment additionally features a high collar with a decorative, detailed back that spreads across the shoulders into short capped sleeves.

EXAMINE: The same as the look, but you can make the look and examine different if you wish.

DETAIL #1: Black High Collar - The black fabric high collar encompasses the back of the neck, in is slit into a V at the front and extends between the breasts where it is hemmed with the metal chrome breast cups and plating